Our team in Gaza are delivering aid every day in extraordinarily difficult circumstances. We asked our CEO, Waseem Ahmad, how they are doing it – and just as importantly, how they are doing.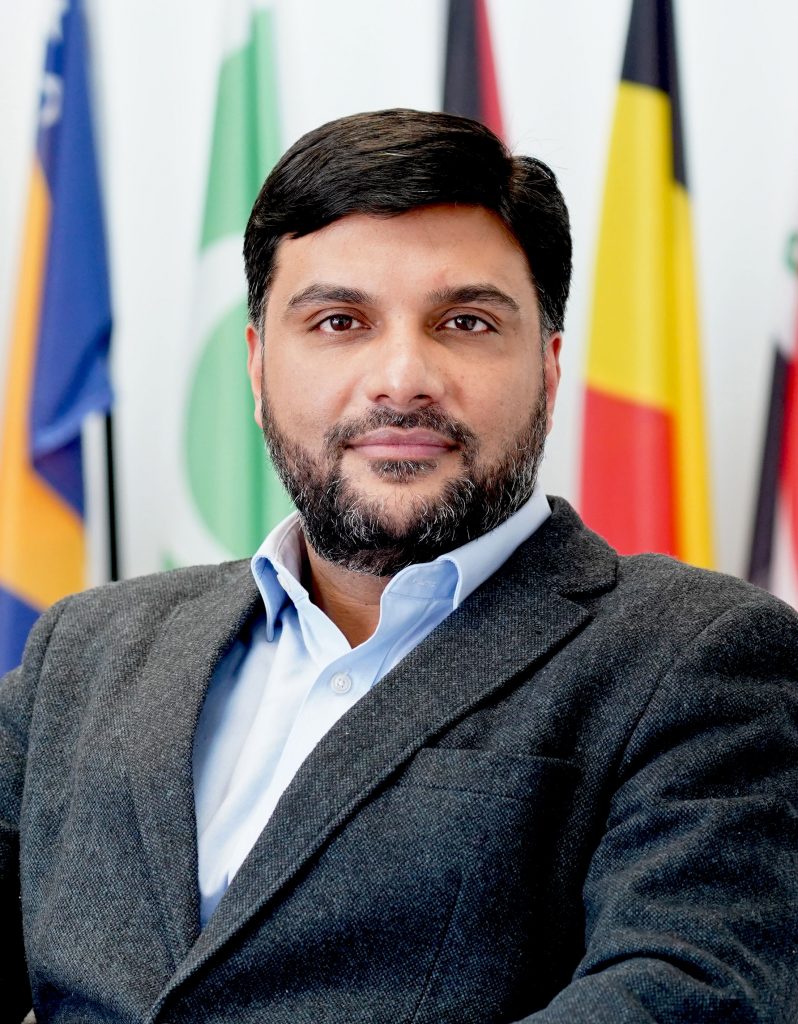 What presence does Islamic Relief have in Gaza, and what kind of work do you normally do?
We've worked in Gaza since 1997. We have a small but dedicated team of staff who would normally be working alongside up to 14 local partner organisations that are funded by Islamic Relief to support the most vulnerable people as they strive to lift themselves out of poverty. Together we would be providing training and microfinance loans to help young people earn a living. Supporting farmers and helping to plant trees. Training teachers and improving facilities in schools so that children can realise their potential. Those things and so much more.
Sadly, none of this work has been possible since the attack on Israel on 7 October and the relentless bombardment of Gaza that has followed. Our office in Gaza City has been damaged beyond repair, and all our staff have been driven from their homes.
Our sole focus now – working with 2 of our local community partner organisations – is responding to the current humanitarian situation, distributing life-saving food, water, medicines, and hygiene items to as many people as possible.
Where are your staff living now? Are they safe?
Over 1.5 million people have been displaced in this crisis, nearly three-quarters of Gaza's population. They include all our staff and their families, who are now in the southern half of the Gaza Strip, some are in the Middle Area, but most are in Khan Younis and Rafah. I am very thankful that none of our staff have been harmed so far, but tragically several of them have lost family members in the bombardment.
They tell us everyone in Gaza has either lost a loved one or knows someone who has.
The scary truth is that nowhere and no one is safe in Gaza right now, including our staff. The United Nations Relief and Works Agency (UNRWA), the main UN body involved in the aid effort, has lost more than 100 of its staff. Many of those were killed in the south, the area to which people were ordered to evacuate for their own safety.
The death toll has passed 11,000, which is an enormous proportion of Gaza's 2.3 million population in such a short time. It is equivalent to 300,000 people being killed in the United Kingdom or 1.5 million people in the United States in just a month. That really should stir the consciences of 2 of the countries that are opposing the ceasefire that is so desperately needed.
Are you in regular contact with the staff on the ground?
It was a sickening feeling when all phone and internet communications with Gaza were cut the night before the ground offensive began in earnest. We waited through 36 hours of deathly silence, fearing the worst, before our prayers were answered when I received a voice note telling me communications were restored and all our staff were OK.
The team in our international headquarters in the UK are in contact several times a day with our Country Director in Gaza when communications allow, and he is in touch with the rest of his team when possible. They can phone and text each other locally, but they have no internet and no WhatsApp. He's new in the top job but very experienced. He's generally a very happy and upbeat person, which helps everyone at a challenging time like this.
What kind of conditions are your staff living in?
Like everyone else who has been displaced, they're among the fortunate few if they have friends or family to stay with who have not also been driven from their homes. Hundreds of thousands of people are packed into desperately overcrowded schools and other buildings repurposed as shelters, with many thousands more sleeping in tents, cars, vans or on the street.
The UN has described conditions in its schools, which have become shelters, as dire, with an average of 160 displaced people per toilet and an average of 700 per shower unit. A single school in the Middle Area of Gaza is home to over 23,000 displaced people. All over southern Gaza, people are queuing for 4 hours or more for meagre rations of bread and water.
One member of our team is somehow managing to write a blog through all this. We get entries from him in fragments when he can get a connection, and we put it on our website. Everyone is terrified, he says, and he fears for the future of his children. It's a compelling read that brings home what it's really like living through the horror being inflicted on so many innocent people.
It feels to him as if the world has turned its back on Gaza, so we want his voice to be heard.
What about working conditions, how are the team managing?
What they are doing is outstanding, I am so proud of them. Working in a war zone is the brain surgery equivalent of what we do as aid workers – it's the most difficult, delicate, and dangerous thing. It's made even more difficult if the communications links are unreliable and and supplies of aid have been squeezed to the point of exhaustion by a siege.
The members of our team doing the distributions are flying solo because their colleagues who would normally take care of the back-office functions like finance and procurement have no office and no internet connections. They're having to be very resilient and very resourceful – doing things like buying up lots of fresh vegetables directly from farmers and distributing them to displaced families to boost meagre food supplies.
The 981 truckloads of aid that have come into Gaza since the Rafah crossing from Egypt reopened on 21 October are a drop in the ocean of what's needed. We need to be seeing 500 trucks a day or more if people are to get through this crisis. And we need the cruel ban on fuel to be lifted to enable bakeries, hospitals, and Gaza's water infrastructure to function.
What's the thinking in working increasingly through local community organisations as partners?
There is a lot of talk about 'localisation' in the global aid community but still too little action. In 2016 international aid donors pledged through the Grand Bargain agreement to spend 25% of global aid budgets on local organisations by 2020, but by 2021 the real amount reaching local groups was still only 2.1%.
Islamic Relief is committed to localisation, to building up the capacity of local organisations to serve their own communities in a sustained and sustainable way. We have a long way to go, but our team in Gaza is among those that are furthest forward, and they deserve a lot of credit for that.
Should your staff and your local partners be working at all in such challenging conditions?
I'm not the one being bombed and terrorised, but the safety of staff can easily keep me awake at night at a time like this. We told them they didn't have to carry on working in these extraordinary circumstances, but they were determined to carry on. Their dedication and courage are inspirational.
Every day the team have been out distributing aid, doing their best to support in any capacity. Supplies are extremely limited and frequently run out, but they are determined to stand by the communities they serve, to save lives and comfort people who have been through unimaginable suffering.
So far our team have managed to distribute nearly 2.3 million items of medical supplies to support hospitals and health facilities across Gaza as they try to treat wounded civilians. They've also provided food to tens of thousands of people in need in the form of food vouchers for 3,745 families; food parcels for over 9,470 households; and over 251,000 ready-to-eat meals for people who are sheltering in schools and other buildings and don't have access to cooking facilities. They've provided clean water for over 15,500 people, blankets and other non-food items for over 7,800 families and hygiene kits for more than 12,200 households. Over 11,200 traumatised children have received psycho-social support.
I want us to keep our and everyone they are helping in our prayers every day – and keep pressing for a ceasefire to stop the killing and enable all aid workers and health workers to do their life-saving work in safety.
Support Islamic Relief's lifesaving work: donate to our Palestine Emergency Appeal.
*This story was written amid a fast-changing situation on the ground, which has since continued to deteriorate. This information was correct as of the morning of Monday 13 November.