Today marks 1 month since an unprecedented escalation began in the Middle East. The situation on the ground in Gaza remains extremely dangerous and civilians are facing a desperate struggle to survive amid relentless bombing and shortages of water, food, medicines, and safe shelter.

More than 10,000 people have been killed in Gaza, including more than 4,800 children, and more than 1.5 million have become displaced following an order to evacuate to the south of the Gaza Strip.

Tens of thousands of individuals have been injured and interruptions to communication continue to leave people unsure of whether their loved ones are safe. In Israel, some 1,400 people have been killed and more than 4,500 injured.

A 'total blockade' of Gaza imposed on 9 October intensified the already 16-year-old blockade of the enclave by cutting off access to any fresh supplies of water, food, medicines and fuel from outside Gaza for nearly 2 weeks Limited truck convoys of aid resumed on 21 October but are a small fraction of what is needed, and still exclude any fuel.

Despite the enormous loss of life, calls for a ceasefire have so far gone unheeded and there is no apparent end in sight to the violence.

This is the situation in Gaza 1 month on.
Hunger

While some aid, including food, has more recently been allowed to enter Gaza, the amounts are nowhere near enough to meet the needs of communities. The amounts are also considerably less than what was coming into the enclave before the escalation.
The lack of fuel is affecting businesses across Gaza, including bakeries and grocery shops. People queue for hours for their chance to buy bread, exposing themselves to great danger. Many bakeries have been forced to close as they no longer have enough fuel to run their ovens, while at least 11 have been destroyed by bombs.

Gaza's only functioning mill is now unable to grind wheat because of the lack of electricity, so only bakeries contracted by the United Nations' World Food Programme (WFP) and a small number outside of northern Gaza have been able to intermittently provide bread to shelters.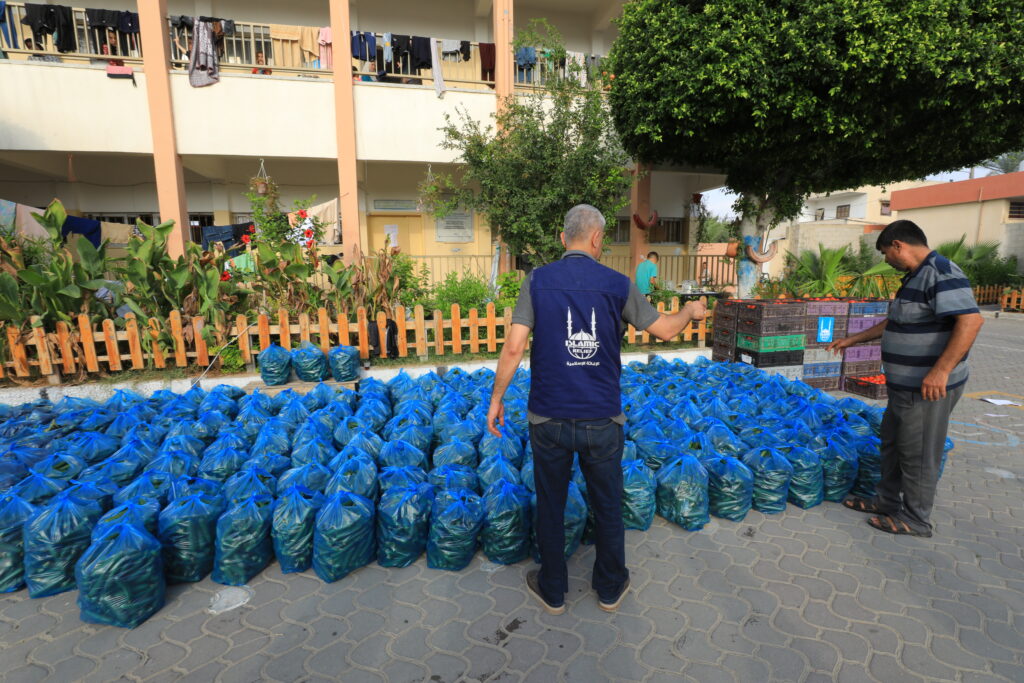 For shop owners, food supplies are dwindling, and prices are rising. Even if food is available in warehouses, stores are struggling to restock because of the danger of travelling to pick up items amid intense bombing and the lack of fuel for their vehicles.

For families, the situation is desperate, and each week requires unending patience and increased ingenuity to find ways to get food and make it last as long as possible. The lack of electricity means frozen and refrigerated items have spoiled, while the lack of fuel greatly reduces cooking options.

With supplies of water extremely limited and tightly rationed, families must carefully consider what they can safely prepare and how much dishwashing it might involve. Each trip out to buy more food brings danger and many are skipping meals to make what food they have last longer.
Shelter

At present, it seems there is no safe place to shelter in Gaza. Gaza City and northern areas have been pummelled by bombs, while southern areas have also been hit despite an Israeli evacuation order urging people to move south.

Refugee camps, hospitals and schools sheltering displaced people are among the buildings destroyed or badly damaged by bombing.

Shelters are hugely overcrowded, and there are concerns about potential outbreaks of disease following reports of cases of chicken pox, diarrhoea and respiratory infections. The mass movement of people to the south has placed additional strain on resources in the area. The situation is so severe that some people have returned to the north despite the danger.

Around 1.5 million people in Gaza are internally displaced.
Water

Gaza has endured a water crisis for years but the current escalation has made the situation all the more desperate.

Most of Gaza's water is contaminated with untreated sewage and salt water and without fuel, the enclave's sole desalination plant cannot operate.

Gaza does not have a water grid that all buildings are connected to, rather buildings have water tanks which are filled regularly. Without electricity or fuel, water cannot be transported to these tanks, nor can it flow from the tanks into taps, showers and hoses for use.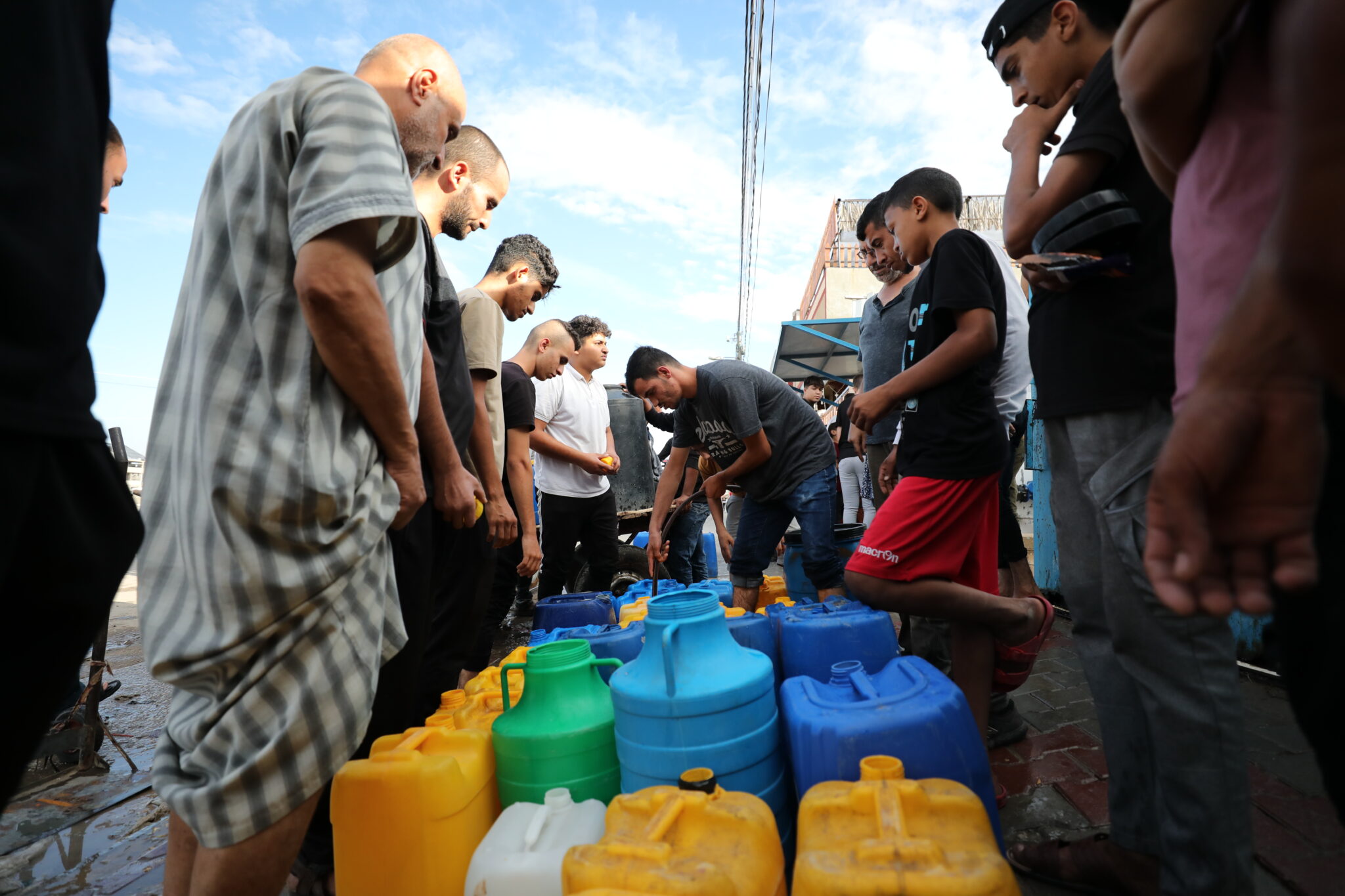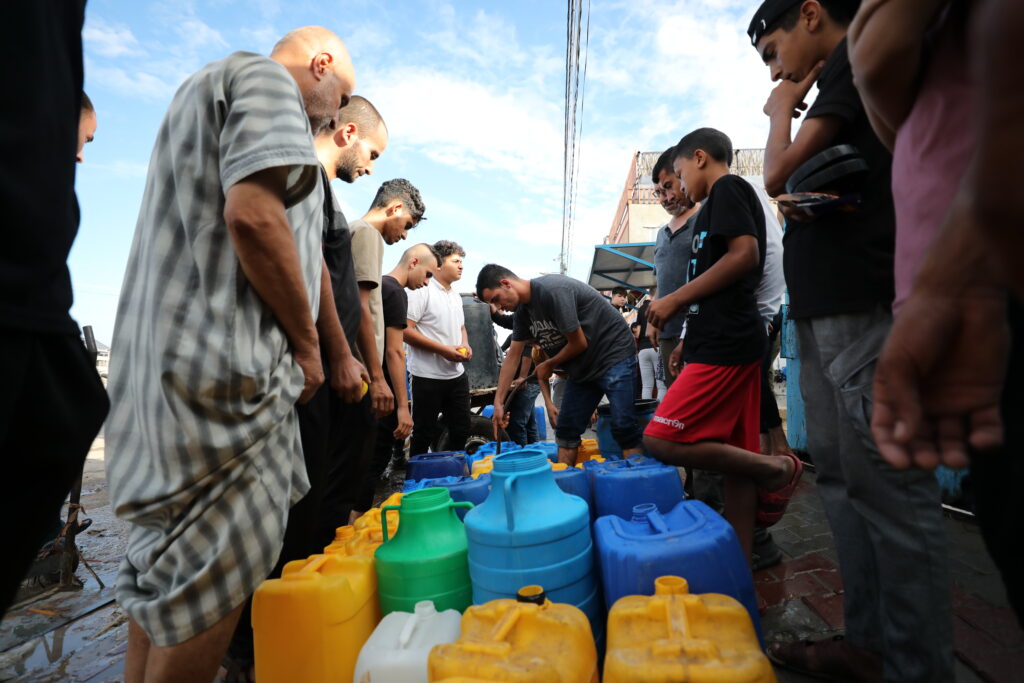 Before the escalation, large water tankers distributed water to homes and other buildings, but bombing has made it too dangerous for some drivers to travel to even fill up their tankers, let alone service their normal routes. Even without the bombing, the lack of fuel would present a huge challenge for deliveries.

Many buildings in Gaza have wells, but without an electricity supply it is almost impossible to pump the water from these wells into the buildings' storage tanks. While generators have long been used to cover patches in Gaza's electricity supply, now people are struggling to find fuel to run the generators.

Even when people are able to draw water from a well, the water is usually not safe to drink.

The lack of water is not only about drinking water – without clean water hospitals cannot maintain hygiene and farmers cannot irrigate their crops or care for animals.

For Gaza's Muslim-majority population, water also holds a spiritual significance and is needed to perform ritual cleaning before prayer.

7 water facilities across the Gaza Strip have sustained major damage, including 3 sewage pipelines and 2 reservoirs. Officials have warned of an imminent risk of sewage flooding in Gaza City.

Fuel

Without fuel, maintaining any semblance of functioning services within Gaza is impossible.

People have been forced to adapt to frequent electricity supply issues for many years, so generators have become a commonplace back up when mains electricity is down.

Right now, however, there is no fuel to power these generators and families are completely without electricity, unless they have access to solar panels – some of which have also been damaged in military bombardments.

Without electricity, people cannot charge their phones to contact loved ones, keep up with the news or call for help.

Hospitals are performing surgeries with only the light from a phone, and patients reliant on equipment such as dialysis machines, ventilators and incubators for their survival are increasingly at risk of dying.

Vehicles – including ambulances, aid agency vehicles, and water tankers – are running low on petrol with little hope of filling up in the near future. This is making it harder for aid agencies such as Islamic Relief, as well as health workers and others, to do their life-saving work. It is also more difficult for people to find the things that they need – from bread to babies' nappies – as they're becoming limited to searching an area they can cover on foot.

Garbage trucks are facing the same issue, leaving trash accumulating on the streets and posing a health risk, while at least 25 sewage pumping stations in Gaza City have ceased operating.

Israel has refused to allow fuel into Gaza since the start of the escalation. It considers fuel to have a 'dual use', meaning it can be used for both civilian and military purposes, so its importation into Gaza is prohibited.

Healthcare

Even before the escalation, Gaza's healthcare system was on the brink of collapse.

In the last month, 14 out of 35 hospitals with inpatient capacity have stopped functioning and more than 70% of all primary care facilities across Gaza have shut down due to damage or the lack of fuel.

There are an estimated 50,000 pregnant women in Gaza, with more than 180 giving birth every day, according to the World Health Organization. Some 15% of these women are likely to experience complications and need additional medical care.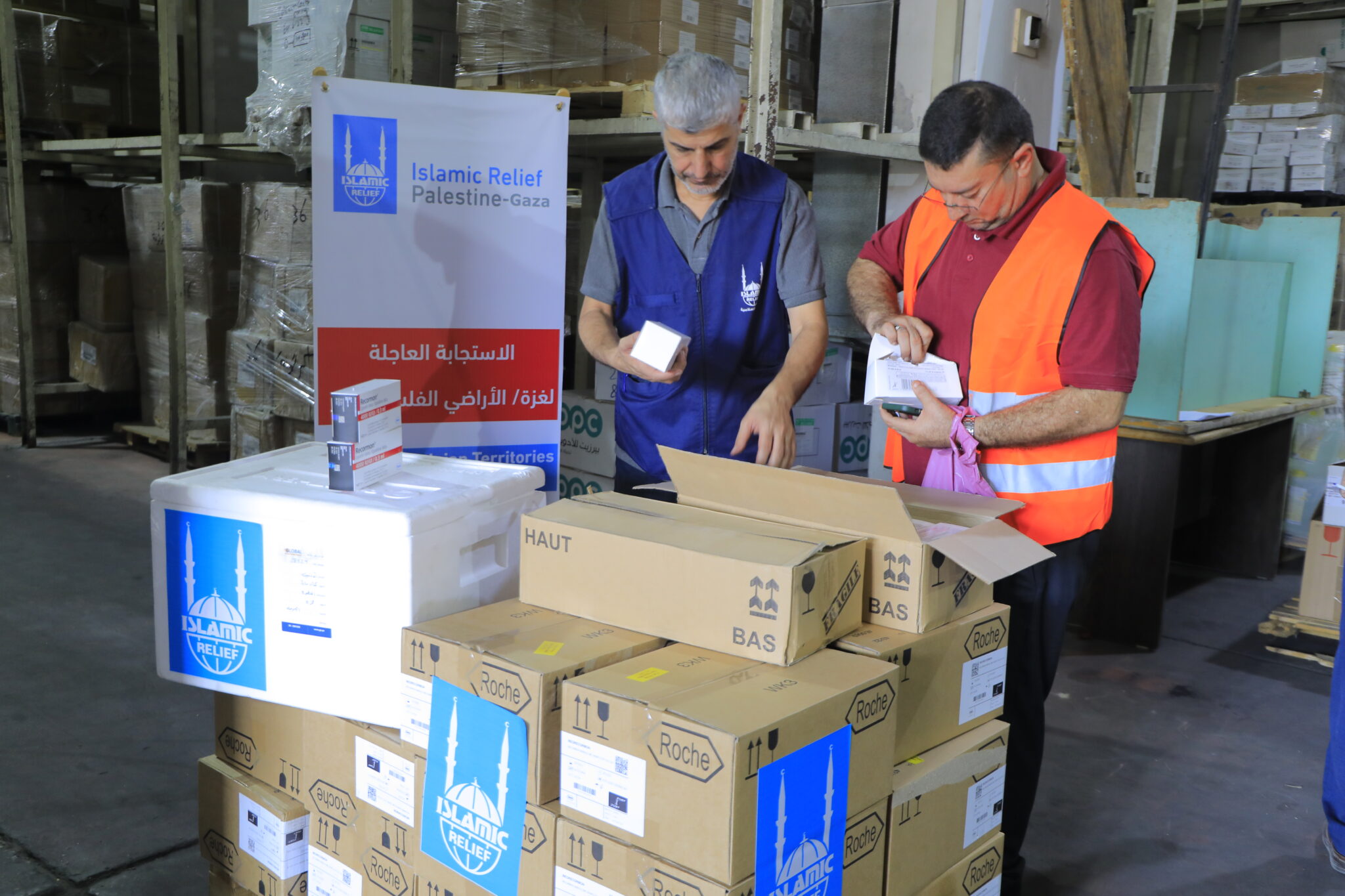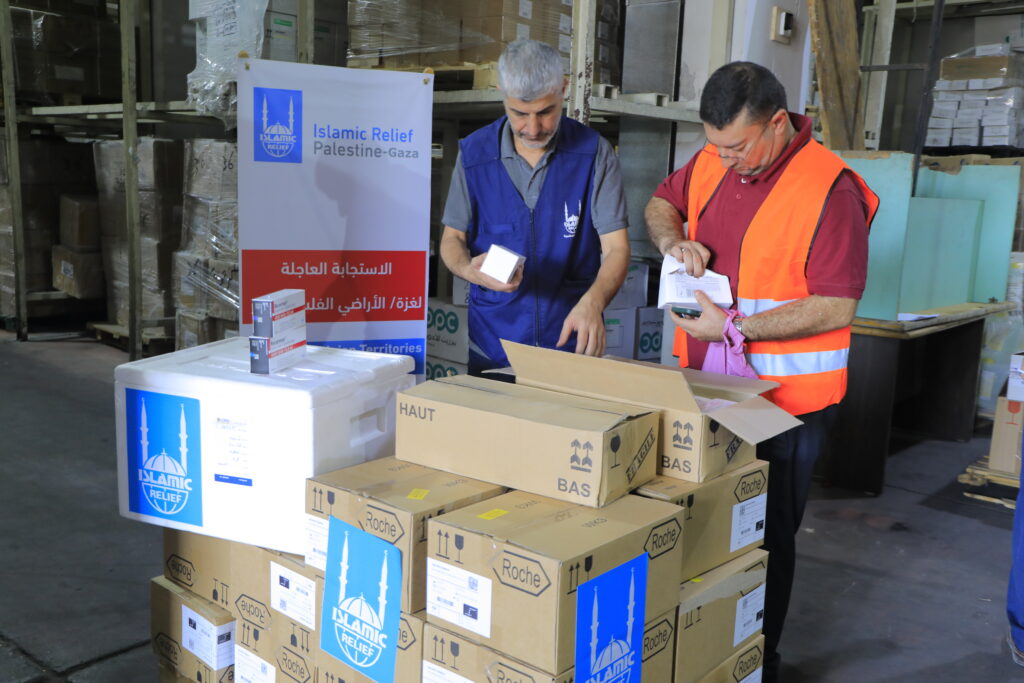 Hospitals, health clinics and dozens of mobile health teams throughout the Gaza Strip are doing what they can to treat an increasing number of injured patients and displaced families, with some hospitals having erected tents within their compounds to cope with overcrowding.

However, they are operating well beyond capacity and staff are feeling the physical and mental toll of treating huge numbers of injured people.

Islamic Relief's response

The situation in Gaza is extremely dangerous, and Islamic Relief's team and partners on the ground are facing many of the same challenges as the communities we support. They have lost loved ones, endured displacement and are living under the constant threat of bombing.

Amid these unimaginably tough conditions, our staff and partners are continuing to provide a lifeline to people in need in Gaza whenever it is safe to do so.

Islamic Relief is supporting vulnerable and displaced families in the southern city of Khan Younis, in Rafah, near the border with Egypt, and in Gaza's Middle Area.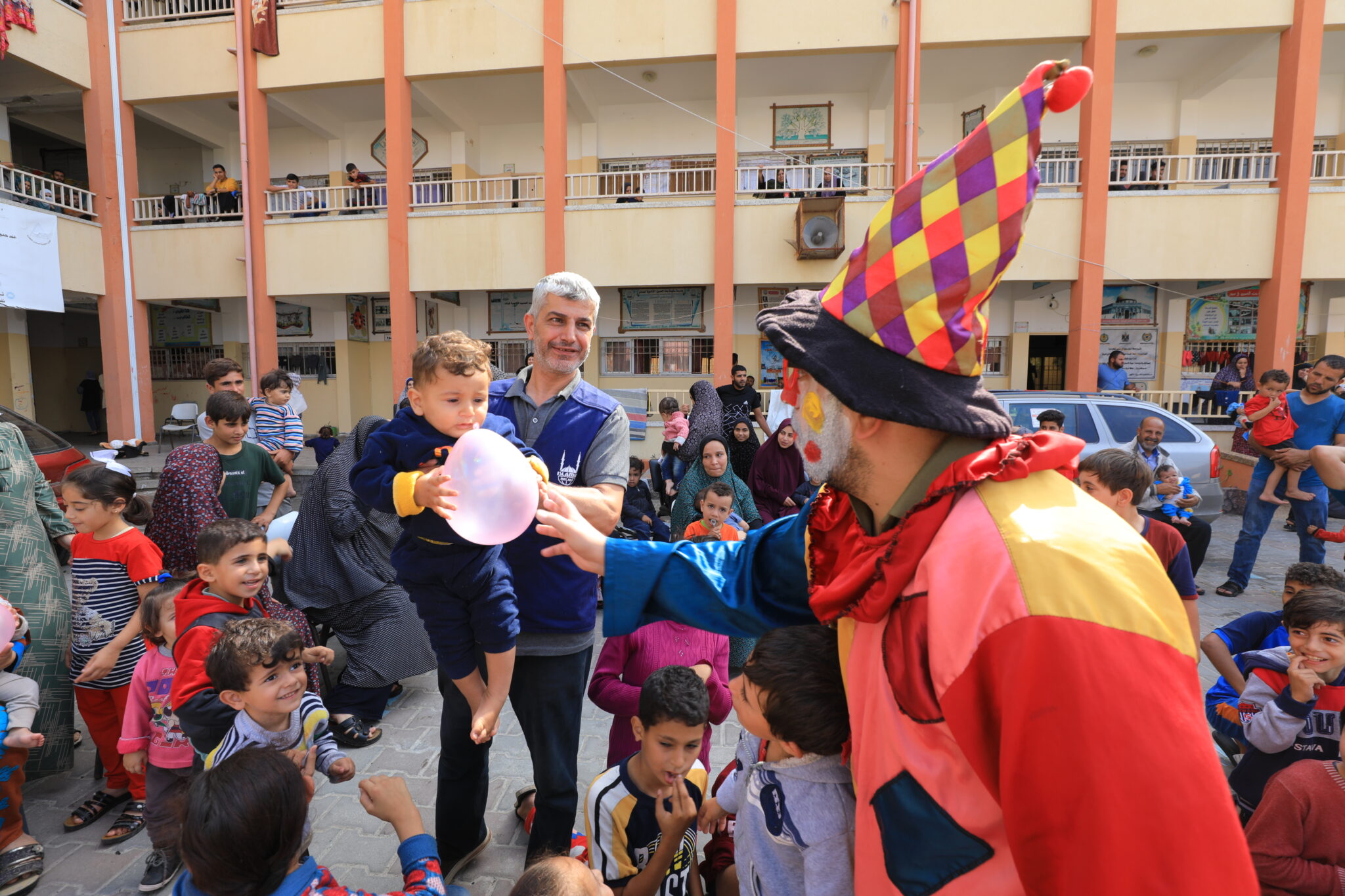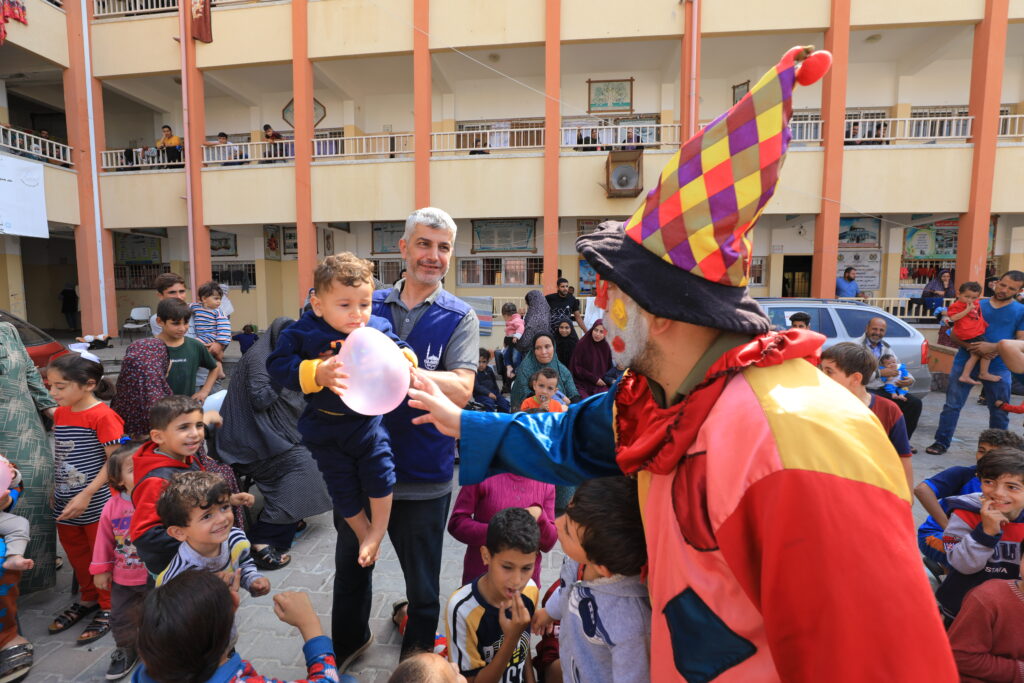 We've helped feed tens of thousands of people with food parcels, fresh vegetables, hot meals and vouchers to buy food. We are also providing water, hygiene kits and blankets to help people keep clean and warm.

In a number of shelters, we've provided respite for more than 4,500 children by staging games and fun events to distract them from their extremely stressful situation. We have also transferred money for the orphaned children who we support through our existing programmes in Gaza, to help them buy supplies or find shelter at this critical time.

We've supported healthcare facilities by providing almost 2.3 million medical items to treat the growing number of injured patients.
Immediate ceasefire

As well as helping vulnerable people on the ground, Islamic Relief is calling for international law to be upheld, and an immediate ceasefire which is required to end Israel's practice of collective punishment against the entire population, which cannot be allowed to continue. We are also calling for a sustained, significant and unimpeded flow of aid across the border from Egypt, and for the ban on fuel deliveries to be lifted without delay.
We want international governments to:
• Call for an immediate ceasefire to prioritise the preservation of human life. We again urge all parties to uphold their commitments under international humanitarian and human rights law.

• Demand that Israel immediately ends its siege of Gaza and ensures that humanitarian aid safely reaches people in need in accordance with humanitarian principles. Israel must allow safe and unimpeded entry of water, food, and other humanitarian necessities into Gaza. Fuel must be allowed in so that hospitals, bakeries and water plants can operate. Israel must enable the distribution of critical aid, such as food, medicine, and fuel, as well as the restoration of power and internet connectivity in Gaza; and it must also ensure humanitarian and medical personnel can move around safely to do their vital work.

• Demand that all parties comply with international law and ensure that civilians are protected from harm. All parties must not target civilians or civilian infrastructure and must ensure that civilians have access to necessities such as water, food, and power.

• Increase aid to Gaza to respond to the urgent humanitarian needs and work with international partners to ensure that governments continue to fund humanitarian organisations responding to the crisis.

• Ensure the safety of humanitarian workers in accordance with International Humanitarian Law, enabling and safeguarding those delivering aid in Gaza.
Please help Islamic Relief to support and stand up for people in desperate need in Gaza. Donate to our Palestine Emergency Appeal now.