Continuing his dispatches from Gaza, an Islamic Relief aid worker and father of 2* describes the ever-present fear and scramble for survival that ordinary Palestinian families are facing.
I am afraid. My days are filled with a relentless stream of news telling me they targeted civilian houses and dozens have died. In the night I wake up, my heart pounding, afraid that the next airstrike will hit us.
I am afraid for my children, what will they do if I died and they lived? Will people come to my funeral to comfort them in their grief? Here in Gaza, we don't do funerals now. Dead bodies are buried in silence. A family is. But in a moment, a family was. A slip from present tense to past sense, from a united unit to a gaping hole where loved ones once were.
I have started telling myself not to worry. Death does not hurt. I will be just asleep. Dead, I won't care about rituals or about ceremonials. A dead person is not here anymore. They are just gone.
Yet still, every night, I dream our house will be the next in the firing line. I am afraid to be trapped under the rubble. In my nightmare, I am afraid my mother can't take her medication. I am afraid I can't take my daughter to basketball training – I promised her I will, when the nightmare we are living finally ends.
My son misses his bedroom. He frequently asks me about when we will go home. I tell him, if we live, we will go soon. But I am lying: we will not return to our precious home anytime soon, not while the world is allowing these atrocities to happen to the children of Gaza.
Gripped by fear
I am afraid what will happen to my things if we are hit. Will my car be ok? I like that car. Can I drive us to the hospital? Will there be enough medical staff to treat us? Perhaps we won't need treatment anyway because we will be already dead. Will they leave my wife and sisters uncovered? Will parts of our bodies be seen? I am afraid of the terrifying scenes.
I have been crying now, to relieve the pain. I am vulnerable as a dry leaf. I am afraid to leave things behind me. My books. The new shirts I did not have time to wear. I am afraid if I die they won't recognise me, but I am wearing my wedding ring which is engraved with my name, and my wife's name, so at least, they can guess who I am.
Yesterday I spoke with my friends, passing on my condolences after his relative was killed. He told me he went to the hospital to see the body, and found a horrifying scene. He told me, "The hospital is like a slaughterhouse. There are injured people everywhere. They do not have space for all the dead bodies. There are no funerals, they just take the dead to the graveyard in an ambulance, with only a few relatives in attendance." In Gaza now, you don't even get proper burial.
Trapped and trying to survive
It is shocking to me that today, in the 21st century, the people of Gaza are living – trying to survive, really – like this. People are being killed for just being here, trapped, with no way to escape, no way to get our children to safety. Families are torn apart.
Every free person in the world would refuse to live like this. It grieves my heart that the international community appears so indifferent to our suffering, that the world is accepting the indescribable horror faced by Palestinians in Gaza.
Just last night, airstrikes destroyed 10 multi-floor residential buildings, with dozens of apartments in them. Residents were told to evacuate – among them were my wife's friend, who described a scene, "like the end of the world." She said everyone was running for their lives, leaving all they love. Just imagine waking up to a call by the Israeli Army telling you to flee your home. How can you tell another person that their house is going to be destroyed? That in the blink of an eye they'll lose everything they built, all their memories, their history, their belongings, all the effort and emotions invested in their home?
Dire conditions in southern Gaza
Today is exactly one week since me, my wife, and 2 children fled our home in the north. Conditions here in the south are very hard. We are still struggling to find water, and we only have 1 hour electricity per day – we use it to charge our phones and batteries as much as we can.
Food is becoming scarce and to get bread requires queuing for 2 hours. Soon, there'll be little left to buy in the local market. What's left is causing quarrels and worse, as people fight for what they need for their family. The cost of everything is rising.
The hospitals – already overstretched before the escalation began – are now overwhelmed. Exhausted medics are doing their best to help a huge number of casualties, but without power and dwindling stocks of essential supplies, what more can they do?
Pharmacies are running out of medicines too. My mother could not find her blood pressure medicine – fortunately we eventually managed to find a pharmacy far away that could give her a 2 week supply. I don't know what we'll do after that. How people with renal failure and heart problems are coping, I can't imagine.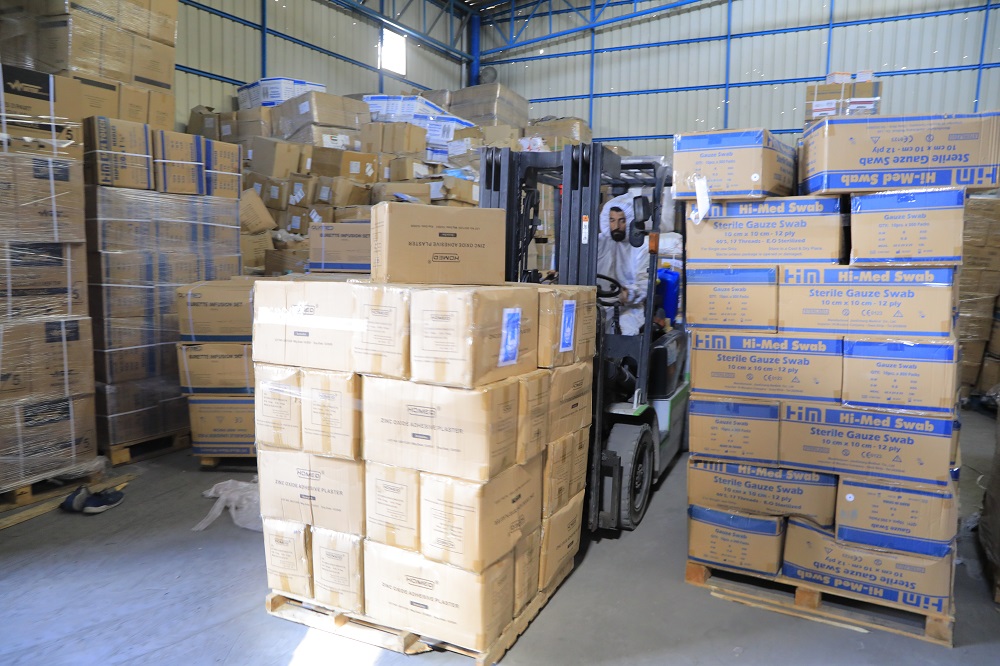 The international community must do more
I still hear the newborn baby at my uncle's house crying and her parents trying to soothe her. It hurts my heart because people can't find milk and baby products anymore. Life is very hard when we struggle to find even the most basic of things, and it's terrifying that families are being targeted in their homes.
Palestinians are being treated as collateral damage without anyone saying a word.
I know the international community is trying to push for Israel to allow humanitarian aid into Gaza, and that's absolutely critical to ease the suffering of ordinary families. But even more, we need an end to this hideous cycle of violence. We need to get back to our lives, and more than that, we need our rights to education, health, freedom of travel, to essential goods. We should be free to live without the ever-present threat of violent death. We need an end to this occupation.
*This blog is anonymised to protect the safety and security of our colleague.
Editor's note: This blog was submitted amid a fast-changing situation on the ground, which has since continued to deteriorate. The information was correct as of the evening of Friday 20 October.