As Afghanistan continues to struggle with hunger and a spiralling economy, we share the stories of some of the resilient communities Islamic Relief is supporting through extreme hardship.
The ancient Buddha sculptures carved out of the rock welcome you as you approach Bamiyan from a distance. About 700 Afghan families now live in this 300-metre-long complex of caves after fleeing poverty, conflict, and recurring drought. What was once a hub of spiritual authority and power now appears peaceful, quiet and deserted.
Since no roads lead to the caves, you must travel there on foot down a narrow path snaking through the settlement until suddenly, everything comes to life. A labyrinth of sewer canals connect to the area's central municipal sewer systems and girls carry sewage water from their homes to pour into the small canals just outside.
Nora*, 40, is sitting on an old carpet that barely covers the floor of her single-room home – a 9-square-meter cave. A small group of clients stand around her, awaiting their turn as she works on a pillowcase and other traditional clothing, busily sewing. Due to an upcoming local holiday, when people wear new clothes, this is one of the busiest times of the year for Nora.
'Life is tough'
Beyond a few blankets stacked in the corner, there is no indication of any bedding in the room where Nora, her husband and their 6 children live. At the entrance stands a makeshift kitchen. The only food on hand is a few slices of bread left over from breakfast. The family will eat the bread for lunch and see what dad brings home for supper later that evening.
"Life in the cave is tough. It's dusty and dry. We do not have toilets around, we go outside in the open to relieve ourselves. For women and girls like me, that is very risky. My husband pulls a cart as a job. He barely earns 50 AFN [0.46p/$0.50] per day, only enough to buy a full loaf of bread." Nora says.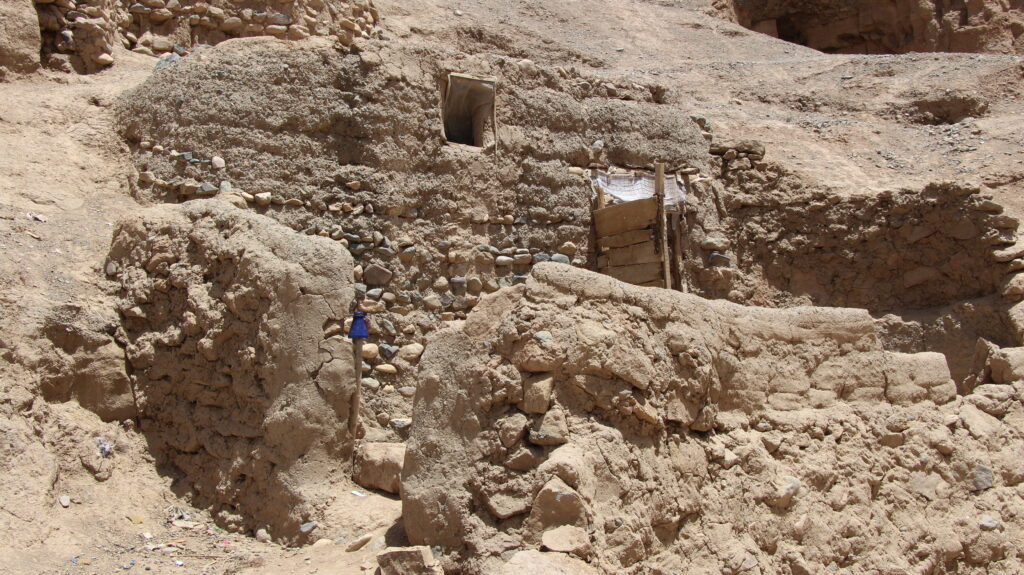 Nora received a sewing machine from Islamic Relief, along with training on basic financial literacy, record keeping and marketing.
"Very little support is available to poor people like us living in a cave. When I was enrolled for training and promised a sewing machine, I didn't believe it until I received the machine. We needed food, and the opportunity was not there. The sewing machine was an opportunity and income for us.
"I mostly sew clothes for the neighbours who believed in my work. I also started producing traditional fabrics for cushions and embroidered scarves for women. I make 1300 AFN (£12/$15) per month. I use this money to pay for my children's education and medicines. We use the remaining [money] for food.
"What I make from the sewing machine is a lot to us. But my priority now is to spend on my children's future. I need money to purchase clothing from large retailers and resell it to neighbours. Finding the funds to grow my business is challenging."
"I don't know how to thank you. I see things opening up for us. My family is not the same as 1 year ago. Though [it's a] small [amount], I get some cash from this business. May Allah (SWT) reward all who sent us this support," she says.
Supporting entrepreneurship
Nora's is among 700 families that received support to build sustainable incomes. She has found fresh opportunity and hope in her small sewing business, and the locals appear to appreciate her efforts.
Nora says she intends to borrow some cash to purchase new fabric and invest in a small sewing shop in the area. As many male clients are hesitant to visit her home when they need tailoring services, she feels that a shop will help her expand.
Despite the crumbling economy, Islamic Relief continues to support the people of Afghanistan towards building stable incomes and becoming self-reliant once more.
Please help us to continue empowering vulnerable people in Afghanistan. Donate now.
*Name changed to protect confidentiality