Islamic Relief is continuing to support people in desperate need in Gaza as the humanitarian situation deteriorates.

Over 9,000 people, including more than 3,700 children, have been killed in Gaza in an unprecedented escalation in the region. The escalation, which began in early October, has also seen some 1,400 people killed in Israel.

Gaza is beset by devastating shortages of food, water and electricity, and more than 1.4 million people have become displaced since the escalation began. The number is growing all the time as bombing destroys homes and shelters.

In recent days, tens of thousands of internally displaced people previously staying with host families have relocated to public shelters as food and other supplies dwindle. This week has also seen refugee camps and health facilities bombed, adding to the devastation in Gaza.

The situation remains extremely dangerous, and Islamic Relief's team and partners on the ground are facing many of the same challenges as the communities we support.

Amid tough conditions, they are continuing to provide a lifeline to people in need in Gaza whenever it is safe to do so.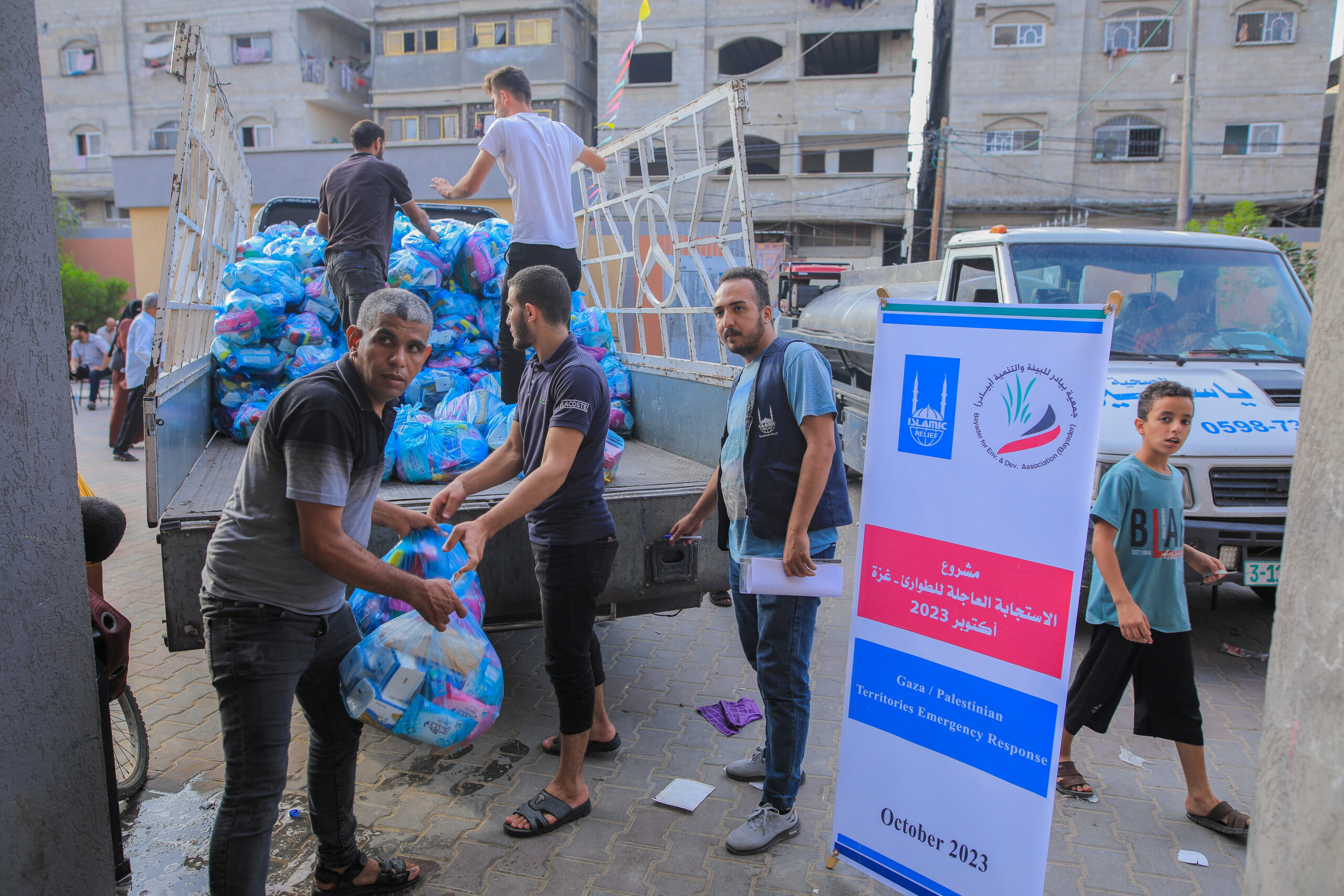 Food, water and warmth

Islamic Relief is supporting vulnerable and displaced families in the southern city of Khan Younis, where many people have arrived following an order to evacuate northern Gaza, in Rafah, near the border with Egypt, and in Gaza's Middle Area.

We've helped feed thousands of people with food parcels, fresh vegetables, hot meals and vouchers to buy food. We are also providing water, hygiene kits and blankets to help people keep clean and warm.
In 1 shelter, we've provided respite for more than 200 children by staging games and fun events to distract them from their extremely stressful situation.

Healthcare facilities are under intense pressure in Gaza, and we've helped to ease their burden by providing almost 2.3 million medical items to treat the growing number of injured patients.

The situation for many families remains desperate and the needs on the ground are growing each day. In these critical times, we are calling upon all parties involves to prioritise rapid, safe, continuous and unhindered humanitarian access.

Please help Islamic Relief to support and stand up for people in desperate need in Gaza. Donate to our Palestine Emergency Appeal now.