In this blog, Jamie Williams, Islamic Relief's Senior Policy Advisor for poverty reduction, explains that in a world in which climate breakdown is increasingly affecting our daily lives, the impacts of this global crisis hit hardest those who are already disadvantaged. He describes Islamic Relief's active involvement in international climate negotiations as it strives to empower communities to overcome poverty and vulnerability.
From relief to resilience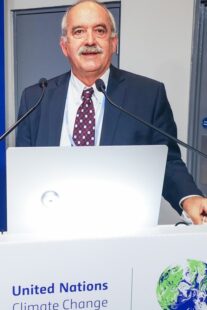 The people for whom Islamic Relief works face daily challenges to achieving well-being: health, decent food, education, work and income are all a struggle to attain. When extreme weather strikes, or the fields become barren, or the rains fail, they are immediately and most deeply effected.
Islamic Relief's mission goes beyond providing immediate relief. As the climate continues to change, communities supported by Islamic Relief must have the ability and resources to adapt. This involves not just responding to crises but also working towards sustainable solutions that help communities reduce vulnerability, strengthen resilience, and build capacity.
Islamic Relief's climate work with the United Nations
Last month Islamic Relief attended the final of a 2-year series of workshops which will provide the basis for negotiations to decide how the global goal on adaptation will be put into action. For over 4 years, Islamic Relief has been active in the United Nations committee that promotes enhanced adaptation in a coherent manner.
Each year Islamic Relief has been following the COP, the pivotal climate summit, working alongside allies to influence successive presidencies. Our message has been to highlight the rights and needs of the often forgotten in this global crisis and to ensure that the poorest and most marginalised are recognised and served in international agreements.
Where we stand
People centred locally-led adaptation is a theme which we have been repeating in all the meetings. With our allies, we have succeeded in having it recognised and discussed in each of the international forums. The struggle continues: national governments are often reluctant to devolve power and do not appreciate the huge benefits of local leadership. But with strong arguments and persistence, barriers are being lowered and there is an increasing move to this vital form of localisation.
COP 28
We are approaching COP28, where governments of the world will make decisions that will define adaptation, assess work that has been done so far and open channels for funding. Our message will be embodied in the conference outcomes.  
Islamic Relief will continue to press for decisions that:
Acknowledge that locally informed and driven adaptation actions enhance effectiveness and strengthen resilience against climate change.
Recognise the crucial role of non-government stakeholders, including Indigenous peoples, local communities, civil society, youth, women, people with disabilities, faith groups, and more, in climate action.
Emphasise the importance of participatory and transparent approaches that consider vulnerable groups and communities, aligning with human rights obligations.
With its efforts internationally, Islamic Relief's work with individuals, families, and communities at the local level becomes connected to global action to respond to the climate threat.
Donate now to support Islamic Relief to help people emerge from poverty and combat climate change