Amidst increasingly complex conflict in the region, Islamic Relief has provided life-saving aid to Kurds fleeing armed groups in northern Syria.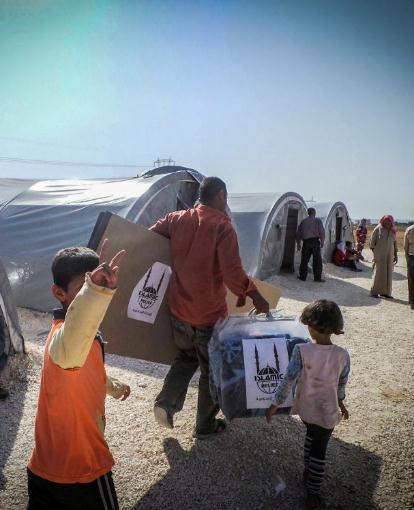 In late September, more than 138,000 people – mainly Kurds – crossed the Turkish border from northern Syria, according to the UN refugee agency. Most of the refugees are women, children, and elderly people, who faced a walk of several kilometres to reach border crossings.
Many are sheltering with family or friends, and others are staying in parks, schools, mosques, and other public buildings. Two transit sites, each designed for 10,000 people, have been set up.
Essential aid items for families seeking safety
Islamic Relief, which has been responding to the crisis in Syria since conflict began in 2011, is distributing essential aid items to ease the hardship faced by the latest influx of refugees.
So far, we have provided 2,000 blankets and 450 mattresses to those fleeing the border town of Kobani, also known as Ain Alarab, and the surrounding area.
More than 4,450 people have benefitted from the distribution, with families each receiving three blankets and two mattresses on average.
In the first six months of 2014 alone, our emergency teams have assisted over 1.8 million people inside war-torn Syria and in nearby countries. The protracted crisis has left 10.8 million people inside Syria in need of urgent humanitarian aid, and has forced in excess of three million to flee the country.
Please continue to support our life-saving work: donate to our Syria crisis appeal today.
Donate